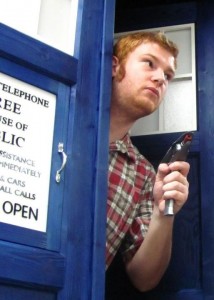 Ben Paddon is a British-born writer, actor and geek humorist currently living in Los Angeles. They were born the same day Chernobyl exploded, although they maintain they have an airtight alibi. They're the creator, Director, co-Writer and Host of PortsCenter, a webseries which looks at unique and interesting ports of video games, and they'realso the GM for the Doctor Who Roleplaying Game actual-play podcast, The Game of Rassilon.
In 2008-09 Ben co-wrote the popular and award-winning web mini-series Boomer's Day Off, which to date has been viewed over 5 million times on YouTube. They also cohosted the movie review podcast The Life Toyetic with Ben and Molly from 2017-2019.
Ben enjoys sitcoms, video games, eating Pop Tarts, and writing biographies of themself in the third person. Their favourite shape is the oblong.